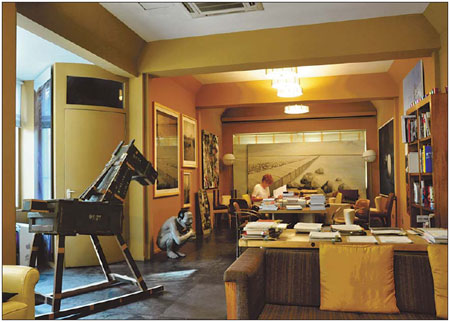 The main room of Karen's Smith's hutong studio holds a range of artworks. [Photos/Cao Yang / China Daily]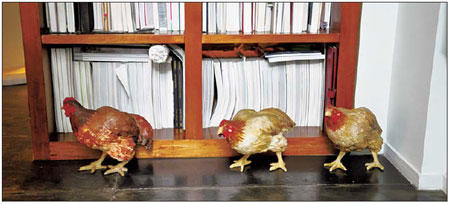 Sculptures of chickens are found at one end of the hutong studio.
Schnauzers, chickens and owls are just a few of the artistic creatures breathing life into a hutong hideaway. Eric Jou discovers a place of inspiration in ancient Beijing.
Behind the most unassuming of doors lies a gateway to China's contemporary art. This gateway leads not to a museum but the personal studio of UK-born art critic and collector Karen Smith.
Situated in a hutong neighborhood close to the Forbidden City, Smith's studio is fronted by a lone wooden door, one that gives passers-by little clue as to what lies behind.
Two schnauzers greet guests in the hutong courtyard, an open space that includes a tree in its center and an ever-changing mural on one wall.
"It's something I do with young artists for fun," Smith said, referring to the mural.
"We change it about once every six months. We get someone to come along and do whatever they like."
Smith, an art collector and critic who has been in China since her time as a student in the 1980s, said she has rented the courtyard house for the last six years.
She said what drew her to Beijing was the increasingly avant-garde art scene.
"I was living in Hong Kong, working as an editor for an art magazine," Smith said. "I was seeing a lot of art coming out that you would never imagine should come out. I became increasingly interested in what was happening so I decided to move."
A tour around Smith's studio shows a gallery of sorts. She said she occasionally changes items on display, pulling from a range of photos, paintings and sculptures.
Turning a traditional Beijing courtyard house into a building suitable for work was a long and laborious task.
"Originally, I thought a bit of paint, some new windows and a new kitchen would be fine, but when we started to clean up the walls, we found that the columns supporting them were almost rotten," she said.
She said that when they were replaced, it was noted that the joists in the ceiling were rotten. In the end, the whole ceiling had to be taken down.
"We also took down some walls to open up the space and put in underfloor heating, which is really useful as it means I can maximize the wall space for art," she said.
The result was an open building with non-directional light from both the windows and overhead illuminations, allowing the artworks to be viewed in a relatively natural way.
One particular piece that catches the eye is an owl-like creature standing on a piece of wood, given to Smith by a couple of young sculptors from the Sichuan Fine Arts Institute.
"I liked it so much that I asked them if I could have one. It's very unusual and part of a series of six," said Smith.
"Obviously it's very much to do with a particular 18- or 20-year-old sort of generation, with thoughts of virtual and fantasy figures. It's just so beautifully done."
Lying on the ground a few feet away is another series of sculptures. Lining the end wall of the main house are a strong of chicken statues and another that looks vaguely familiar - a statue of a schnauzer, the same as her pets.
"An artist gave that one to me as a joke," Smith said. "The dogs don't come here everyday so it's to remind me of them when they're not here. Plus, they go with the chickens."
So, while the courtyard house might not be used as the residence of local Beijingers, it still manages to emit similar moods - those of rich customs and dramatic expression.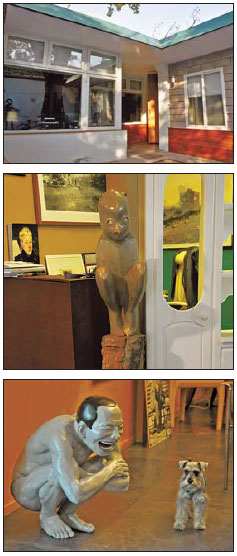 Top: The courtyard outside the main building is a small square in which stands a large tree.
Middle: A statue of an owl-like creature stands in front of a painting of Karen Smith.
Above: A squatting gray man appears to frighten one of Smith's real dogs.