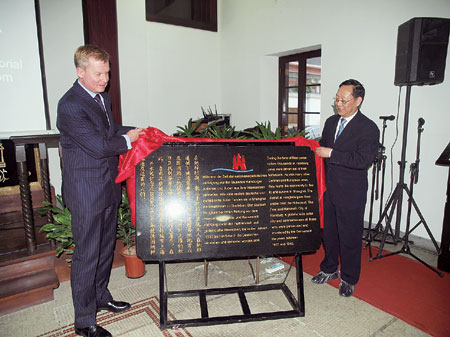 State Secretary of Hamburg Carsten Ludwig Luedemann and Vice-governor of Hongkou District Ying Mingyong unveil the memorial plaque.
The Shanghai Jewish Refugees Museum on Changyang Road received a new plaque from Germany this month, underscoring decades of humanitarian work highlighted by its efforts to contain the fallout of Nazi persecution.
The memorial plaque from The Free and Hanseatic City of Hamburg was dedicated to the museum for offering Jews a safe haven until the end of World War II. The museum was known as the Ohel Moshe Synagogue until it was renovated in 2007.
Thousands of Hamburg Jews sought shelter in Shanghai's Hongkou district at a time when many other countries closed their doors to their plight, said Hamburg State Secretary Carsten-Ludwig Luedemann at the plaque's unveiling ceremony.
"Jews were forced to leave their hometown to escape from the holocaust. They went to many countries but most of them were rejected. Shanghai is the only city in the world that was open to Jews, especially for those who did not have good financial conditions," he said.
At the event four Chinese artists read a script written by Michael Batz, author and regisseur of the Kunstlerischer Leiter Hamburg Art Ensemble. Based on heavily researched works conducted by two historians who were sent to Shanghai by the Culture Ministry of Hamburg in 2005, the script carried on details of the lives of Jews living in Shanghai half a century ago.
"We are all humans and we all have human rights," he said. "You should not compartmentalize people into good and bad guys. Humanity, understanding and giving people a chance to live are (the issues my script aims to convey). This is what Chinese people did, and it is very, very important."
Luedemann described the script, based on real-life people and incidents, as "a reminder to us that we should not forget about history." Germany is working to have it read again at next year's World Expo.
Some 30,000 Jewish refugees left Europe between 1933 and 1941 to live in Shanghai. Of these, 18,000 were forced to live in Hongkou's Tilanqiao area. They included 200 Jews from Hamburg. Bereft of papers and passports, they were effectively stripped of their nationality.
When the war ended in 1945 most went overseas in search of a better life.
Through the use of photographs and written documents, the museum, originally built by Russian Jews in the late 1920s, continues to bear witness to their trials and tribulations. During the war it served principally as a venue for refugees to continue performing their religious rituals.