Time for a change
Updated: 2011-11-02 14:33
By Sun Li (China Daily)
| | | | | | | | | | | |
| --- | --- | --- | --- | --- | --- | --- | --- | --- | --- | --- |
|   | | Comments() | | Print | | Mail | | Large Medium  Small | 分享按钮 | 0 |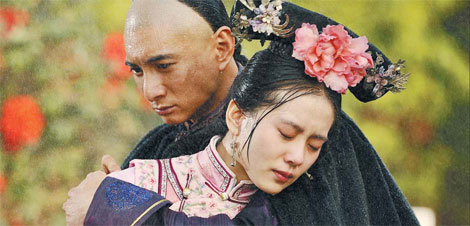 Taiwan actor Nicky Wu and mainland actress Liu Shishi take the lead roles in Startling by Each Step. Photos provided to China Daily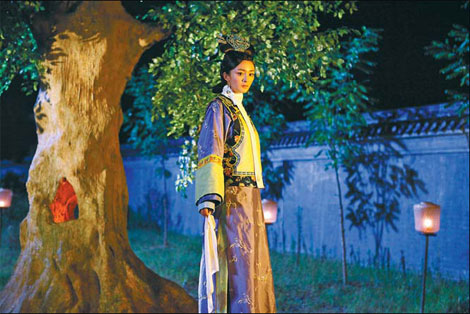 Actress Yang Mi plays the female protagonist in the popular time travel TV series Palace.
Time travel TV series are hot right now, but they have their critics too. Sun Li reports.
TV serials about time travel have become popular but appear to show a lack of creativity among scriptwriters, some experts say. Two TV series in particular - Palace and Startling by Each Step - both first shown on Hunan TV, center on a female protagonist who goes back in time to the Qing Dynasty (1644-1911), where they become romantically involved with princes. Their success has inspired TV production companies to buy up similar time travel tales for 2012. "It's fun to watch characters travel back in time and deal with the conflicts between modernity and ancient times. It creates a novelty value," says Xia Xiaoyan, a loyal fan of both shows, who works for a foreign-owned enterprise in Shanghai.
"I'm hooked by the shows because they are characterized by dramatic and poetic love and have eye-pleasing actors."
Cai Yinong, the producer of Startling by Each Step, says time travel series are not new but the genre offers room for imagination and connects both today and the past.
"Many people are facing tremendous pressures in their fast-paced lives, so this genre is more relaxing than other shows as it provides people with a terrific outlet to escape reality," Cai says.
"Most time travel series are set in the Qing Dynasty, especially during the reign of the Kangxi Emperor, which is familiar to viewers from TV dramas," Cai continues. "Basically, it takes viewers no time at all to understand the historical context."
Many time-traveling stories are adapted from popular online novels, which have already established a solid fan base, Cai says. This also helps ratings.
Time travel TV programs have their critics, however. In previous guidelines issued by the State Administration of Radio, Film and Television (SARFT), they have been discouraged because they "casually make up myths, have weird plots and use absurd tactics".
Du Yingjie, a PhD student of Radio and Television Art at Communication University of China, says one of the ridiculous elements of these shows is blending modern catchphrases and old-fashioned language.
"Time travel series are more about entertainment. Many characterizations, scenes and lines are not in accord with historical facts," Du says. "If we focus on authenticity, quite a few episodes are shoddy products."
Cai agrees. "Traveling back in time involves looking at history from a modern perspective, so it is inevitable to mix new elements with old ones," she says.
"If the authors and screenwriters who edit the original work do not do their research properly, there is a good chance the show will be misleading in terms of historical facts."
Cai says a team of Qing Dynasty experts was hired to lower the likelihood of contradicting historical facts when shooting Startling by Each Step.
"Although time travel series are made for their entertainment value, being entertaining does not necessarily mean making a farce filled with nonsense. So producers should not ignore the issue of authenticity," she advises.
"Shows of such kind, in the future, should be careful about such details such as language styles, characters' titles and court etiquette."
To Gui Dongming, a veteran scriptwriter, the popularity of time travel series indicates an absence of originality among screenwriters.
"It's much easier for a screenwriter to absorb and transform an antecedent text than to think of a brilliant idea and complete it by himself," Gui says.
Gui says TV producers are more likely to green light projects that have a proven track record, so adaptations and imitations of bestsellers are given the go-ahead, while an original story may be sidelined. That makes writers more willing to take shortcuts.
But in the long run, Gui argues, this will not be good for China's TV because audiences will get tired of the same formulas.
"Essentially, screenwriters should adopt a down-to-earth and painstaking approach, pouring in enough time to do research and to enrich personal experiences to make a unique story that is close to people's lives," he says, adding young scriptwriters, in particular, need to be patient and widen their horizons.
"Since most time travel TV dramas now tell of characters traveling back in time, we should start to depict ancient characters traveling forward in time to the present day, or traveling back and forth," he says.
"It's important to learn to be creative, even if we are in the adaptation or imitating phase."