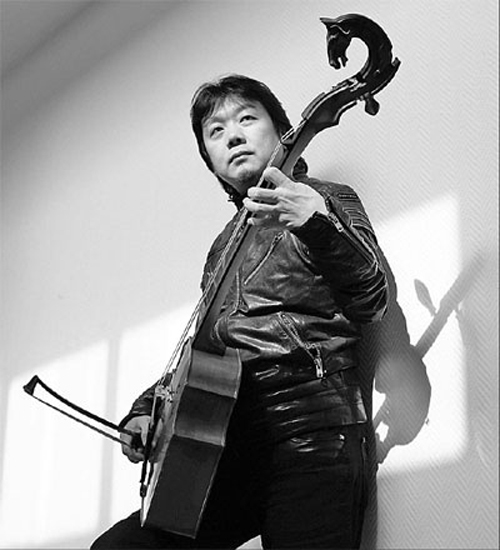 Zhang Quansheng, who spent his childhood living on the grasslands of Inner Mongolia autonomous region, loves Mongolian culture and has tried to bring matouqin, or the Mongolian horse-headed fiddle to world notice. Zou Hong / China Daily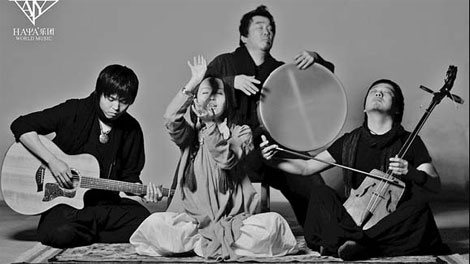 Members of Haya, founded by Zhang in 2006, during a performance. Provided to China Daily
Nation's best player of the Mongolian horse-headed fiddle continues to search for his musical roots.
Zhang Quansheng retains vivid memories of the Mongolian grasslands where he grew up with his nomadic grandparents nearly three decades ago. There was no television or other modern forms of entertainment then, just folk songs and stories passed down from one generation to the next. It is this early life that helped shape his distinctive style, says the singer with a deep love of Mongolian culture.
"I lived on the grasslands till the age of 8, staying in a yurt in spring and summer and spending winters back in a village," says Zhang, now based in Beijing. "I can recall the smell of the animals, the food and the air, which are so different from the smells of a city."
His daily interactions with Mongolian children helped him pick up the local musical instruments, he says, adding he enjoyed watching elderly folk play them.
Zhang moved to downtown Hohhot, capital of Inner Mongolia autonomous region, with his parents when he was 8. There he studied Putonghua, listened to modern music, and was put through violin training. But the formal music school to which he applied had no violin department. They only offered classes in matouqin, or horse-headed fiddle, a typical Mongolian bowed stringed instrument.
So young Zhang began his formal training on an instrument he was already very familiar with.
The versatile singer-songwriter, regarded as the nation's best player of the horse-headed fiddle, graduated from the music department of the Central University for Nationalities in Beijing in 1991, where he was instrumental in introducing a new major in the study of the horse-headed fiddle.
He also brought the traditional Mongolian instrument to world notice with his group, Haya, which he founded in 2006.
"I love the unrestrained sound produced by the fiddle. It reminds me of a wild horse running on the grasslands," he says. "But I have been influenced by other genres such as rock and classical, as well."
Haya's other members also come from Inner Mongolia. There's the percussionist Bao Yin who is also adept at hoomii, the distinctive Mongolian "throat singing", guitarist Xi Bo, and leading vocalist Daiqing Tana, all of whom have made Haya a unique music group in China.
Every song features ancient ritualistic chanting, rooted in the rich and profound musical heritage of Mongolia. The lyrics are suffused with imagery from nature, and tell stories about the place and the songwriter's reflections on life.
The band's music is complemented by its members' exotic appearance - in their ethnic clothing, braids and accessories.
Zhang rose to fame in 2007, with his music for director Zhang Yimou's Riding Alone for Thousands of Miles. The group released their debut album Wolf Totem the same year. The album's blending of indigenous and original Mongolian sounds with modern music, won it the Best Crossover Album award at the Taiwan Golden Melody Awards.
Their second album, Silent Sky, was a further exploration of traditional Mongolian music. Their third, Light, was dedicated to the victims of the 2008 earthquake in Sichuan, while their fourth and latest album, Migration, to be released in May, kicks off their first Asian tour.
This album will see Zhang returning to his hometown. "The migration of birds and the nomadic journeys of Mongolian herdsmen are all regular seasonal journeys that obey natural rules," Zhang says. "I use migration as the theme of the album to remind listeners as well as myself to never forget one's roots.
"The core message in our music is to protect and spread the Mongolian culture that runs in our blood," says Zhang, who insists on singing in the Mongolian language in all of Haya's albums.
He says the highlight of his career has been performing at outdoor music festivals in China and abroad, including the 2010 concert at Columbus Asian Art Festival in the United States, the 2010 Yunnan Lijiang Snow Mountain Music Festival and the 2011 Cannes World Music Festival in France.
"I've found that our music has a lot in common with the ethnic music of different countries," he says. "But the most important thing is that our great culture is appreciated by the world."
Zhang plans to once again live on the grasslands, with his band, to further strengthen his musical roots. They will also do a documentary on their journey.
"My father is always criticizing my music saying it is not Mongolian and wants me to do authentic Mongolian music," Zhang says. "I am thinking of doing just that."
Haya will perform at Peking University Concert Hall on April 9 and at Central University of Nationalities on April 23, before touring Shanghai, Guangzhou, Inner Mongolia, Japan and India.