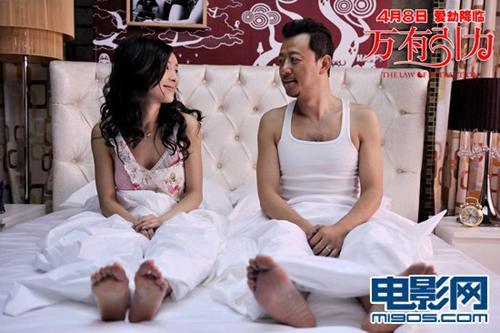 A still of director Zhao Tianyu's new film, "The Law of Attraction"(Wan You Yin Li)
Director Zhao Tianyu's new film, "The Law of Attraction"(Wan You Yin Li) is to open today, April 8 all over the country.
The film gathers an ensemble of eight characters in four separate love stories. There are fine performances from Karen Mok, Zhang Jingchu, Guo Tao, Leon Dai, Wen Zhang, Bai Baihe, Huang Huan and Duan Bowen.
In a recent interview with the Beijing Times on Tuesday, April 5, director Zhao said he would continue to explore the relationship between men and women in his films.
In the film, director Zhao intertwines different aspects of love including first encounter, building a family, yearning for a new relationship and renascence together, which offers a realistic account of a relationship that every one may recognise.
Special props, for example a thermometer, traffic sign and parachute are used in the film. They are meant to reflect the complicated relationships people usually have and are used as visual metaphors.
Zhao Tianyu released his directorial debut in 2008, "Deadly Delicious," a love adventure between a man and two women, which turned out to be a box office success.