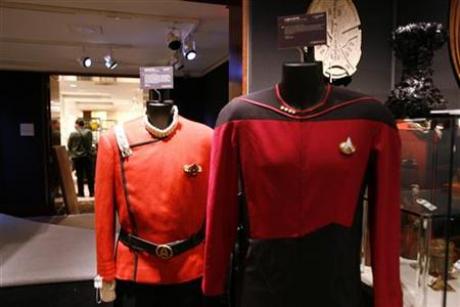 LOS ANGELES - Paramount's worst fears are confirmed: "Star Trek" was the most pirated film of 2009, according to a new report.
In October, the studio told the Federal Communications Commission that "Star Trek" had become a hot commodity in piracy circles. Illegal file-sharing had advanced from "geek to sleek," Frederick Huntsberry, the studio's chief operating officer, told officials.
Now, according to data from TorrentFreak, "Star Trek" was downloaded nearly 11 million times this past year, just edging "Transformers: Revenge of the Fallen" (10.6 million). The films were among the biggest of the year at the box office.
At the other end of the box-office scale, "Sherlock Holmes" director Guy Ritchie's "RocknRolla" ranked No. 3. It grossed less than $26 million worldwide.
Interestingly, for all the fuss about the "Wolverine" leak, the film came in at No. 9 with 7.2 million. The FBI earlier this month charged a man with violation of federal copyright law, alleging he uploaded the film to the Web last spring.
The list was rounded out by "The Hangover" (No. 4), "Twilight" (No. 5), "District 9" (No. 6), "Harry Potter and the Half-Blood Prince" (No. 7), "State of Play" (No. 8), and "Knowing" (No. 10).