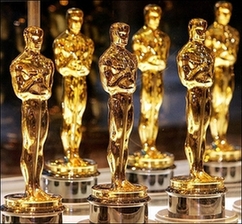 Academy Awards organisers expressed confidence on Tuesday that this year's Oscars show would go ahead as planned, as Hollywood digested the bombshell cancellation of the Golden Globes.
Bruce Davis, the executive director of the Academy of Motion Picture Arts and Sciences, told AFP that Oscars organisers were hopeful of reaching a deal with writers that would allow the highlight of awards season.
"At this stage we are still making our plan as normal," Davis said.
The dispute between writers and producers claimed its highest profile casualty on Monday when it was confirmed that Sunday's Golden Globes ceremony had been scrapped and replaced with a press conference.
The decision came after Hollywood's actors union, the Screen Actors Guild (SAG), announced last week that stars would not cross picket lines surrounding the show set erected by the Writers Guild of America (WGA).
The WGA has already said its members will not be allowed to write the script for the Oscars show, but has not yet explicitly confirmed if it will picket.
Davis said that while the Oscars could probably survive the absence of writers, picket lines would pose a headache, raising the grim prospect of a Globes-style actors boycott.
"I think we could absorb not having writers if they don't put up a picket line," Davis told AFP. "But a picket line is a whole new problem," he added.
Davis said organisers would be able to wait until a few days before the event is scheduled to make their final decision, comparing it to 2003, when the Oscars took place a few days after the US-led war in Iraq began.
"If you look at the war year in 2003, we were trying to decide 'do we go ahead with the show or is it going to be awful,'" Davis said.
"And we finally decided at that point that we would make a decision four days before the Sunday of the show."