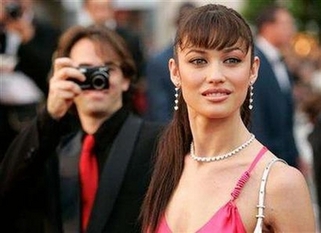 Actress Olga Kurylenko arrives for the screening of 'Paris Je T'aime' which opens the 'Un Certain Regard' competition at the 59th Cannes Film Festival May 18, 2006. [Agencies]
In the secretive world of movie spy James Bond, the "Bond girl" for the new installment in the movie series had been top secret, but on Monday Bond's backers said Ukrainian bombshell Olga Kurylenko is the actress.
Columbia Pictures, the film studio behind the popular movies about the British secret agent, said the 28 year-old Kurylenko has been cast in one of the most coveted roles in the movies -- 007's sidekick for the still untitled Bond flick.
The film, which is the 22nd in the series that dates back to 1962's "Dr. No," is due in theaters in November and stars Daniel Craig as the dashing British spy who regularly saves the world from a destructive evil villain.
Early reports had actress Gemma Arterton as the new Bond girl, but even though Arterton has a role in the new film it is not as large as Kurylenko's, said a source close to the film.