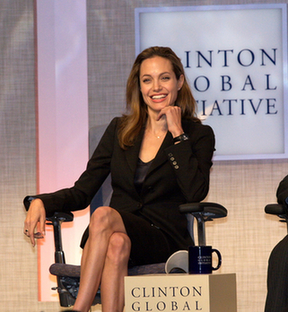 A file photo of Angelina Jolie at the Clinton Global Initiative Annual Meeting, Sheraton Hotel and Towers, New York City (September 26, 2007). [Agencies]
Angelina Jolie has been picked to play the lead role in Paramount Pictures' pic about the life of intelligence operative Kathi Lynn Austin.
The studio acquired the life rights to make a pic about Austin, who most recently worked on contract for the U.N. Security Council and has undertaken field missions in Africa, Europe, Southeast Asia and Central America involving arms trafficking and terrorism.
The drama will focus on a fictional arms dealer inspired by Victor Bout, the Russian considered to be one of the world's most prolific dealers in illegal weapons.
On board as producer will be Media Talent Group's Geyer Kosinski, who manages Jolie and has looked long and hard for a project that is based on reality and has the potential to spawn of a franchise, reports Variety.
Meanwhile, Austin signed with IPG's Joel Gotler to tell her story.
Studio and Kosinski have put together a shortlist of scribes and aim to set one as soon as the writers strike ends.
Jolie is currently shooting "The Changeling," the Clint Eastwood-directed drama for Universal, Imagine and Malpaso.