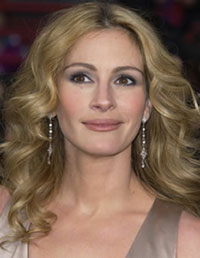 Julia Roberts
Her new movie 'Charlie Wilson's War' may be the last time Julia Roberts' fans get to see her nude on-screen.
The mum-of-three admits to E!'s The Daily 10 that it's highly unlikely that she will be stripping off for the cameras once again.
The reason, she insists, is that nudity is not 'her thing'.
"Listen, there's a reason why you don't see me naked me in movies, you don't see me running around in bathing suits in movies. It's just not my thing," usmagazine.com quoted her, as saying.
Roberts, who famously used a body double to shoot nude scenes in the movie that catapulted her to stardom 'Pretty Woman', now joins the ranks of actor Brad Pitt, who recently stated that he would not be dropping his clothes ever again.
Roberts' new movie hits the big screen in the US on December 21.
Starring with her in the movie are fellow Oscar winners Tom Hanks and Philip Seymour Hoffman.