Carmen wants Johansson or Bosworth to play her
(Agencies)
Updated: 2007-12-04 16:50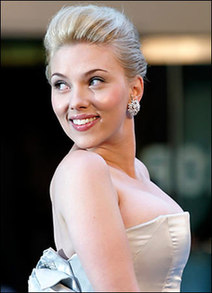 Scarlett Johansson
Jeanne Carmen, former actress and one time best friend of the late Marilyn Monroe, wants either Scarlett Johansson or Kate Bosworth to portray her in a new biopic.
Pop star Christina Aguilera was to act in the movie but had to pull out due to pregnancy, contactmusic.com reports.
Carmen said: 'Christina was interested in playing the part and is a born pin-up girl at heart. She became pregnant, however, and the script is now in the hands of Scarlett Johansson's agent and Kate Bosworth's agent. Either one of these girls have the talent to pull it off.'
The movie is based on her son Brandon James' biography 'The Wild, Wild Life of Jeanne Carmen'.