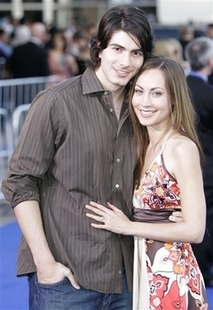 Brandon Routh and Courtney Ford arrive at the premiere of the film 'Transformers,' in this June 27, 2007, file photo in Los Angeles. [Agencies]
It was a Thanksgiving weekend wedding for "Superman Returns" star Brandon Routh and Courtney Ford.
Routh, 28, married the 29-year-old actress Saturday at El Capitan Ranch. The couple met four years ago, according to People magazine.
The bride wore a Junko Yoshioka sheath dress with Chantilly lace and platinum beading and the groom wore a cashmere suit, according to the People report featured on the actor's Web site.
In a People interview in June, Routh called Ford his personal kryptonite, saying, "She brings me to my knees."
Telephone messages left with Routh's publicists, Emily Yomtabian and Simon Halls, weren't returned.
Routh starred in last year's "Superman Returns." Ford starred in the 2004 science fiction film "Outside" and her TV credits include appearances on "Ugly Betty" and "Moesha."