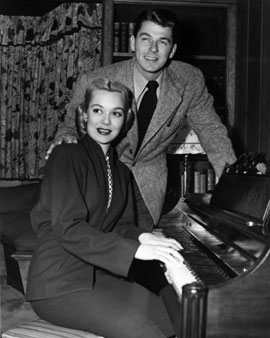 Actors Jane Wyman and husband Ronald Reagan are shown
in this undated photograph provided by the Screen Actors Guild.[Reuters]
Jane Wyman, the Oscar-winning actress who was Ronald Reagan's first wife and starred in the popular 1980s television drama "Falcon Crest," died on Monday at age 90, her longtime manager said.
Wyman married fellow actor and future U.S. President Reagan in 1940 but divorced him in 1948. She died at her home in Palm Springs, California, having been in failing health for several years, business manager Michael Mesnick said in a statement.
Known as "one-take Wyman" for her professional work ethic, Wyman appeared in more than 80 films during a career spanning four decades. Her last movie was the 1969 musical comedy "How to Commit Marriage" with Bob Hope and Jackie Gleason.
Starting out as a radio singer, the Missouri-born Wyman broke into the movies in the 1930s as a Goldwyn Girl and signed with Warner Bros. studio in 1936. Her film acting debut came with a bit part in "Gold Diggers of 1937."
Initially typecast as a perky, sometimes flaky or tart-tongued blonde, Wyman toiled for a decade in mostly B-movie fare and supporting roles in bigger films. She gained notice in 1945 for her role as the girlfriend of a chronic alcoholic in Billy Wilder's drama "The Lost Weekend."
Generally appearing as a brunette after that film, Wyman went on to give a string of Oscar-nominated performances as a leading lady, beginning with "The Yearling" opposite Gregory Peck in 1946.
OSCAR TIME AND DIVORCE
She won the Oscar as best actress for her 1948 role -- played when she was 34 -- as a teenage deaf-mute raped in "Johnny Belinda." She and Reagan, once hailed by the Hollywood publicity machine as the ideal couple, saw their marriage collapse.
Wyman's two other Oscar nominations came for the 1951 drama "The Blue Veil," in which she played a self-sacrificing nursemaid, and the 1954 Douglas Sirk-directed romance "Magnificent Obsession," opposite Rock Hudson.
She sang in duet with Bing Crosby on the Oscar-winning song, "In the Cool Cool Cool of the Evening," from Frank Capra's 1951 musical comedy "Here Comes the Groom," and shared the screen with Marlene Dietrich in Alfred Hitchcock's 1950 thriller "Stage Fright."
Wyman began a television career in the 1950s, hosting the drama anthology series "The Jane Wyman Theater." She became best known to a later generation of viewers as the ruthless family matriarch Angela Channing in the CBS melodrama "Falcon Crest."
The show was a 1980s hit during the White House administration of her former second husband, Reagan, with whom Wyman had a daughter, Maureen, who died in 2001, and adopted a son, Michael, who became a conservative radio host.
By then Reagan, whom Wyman had met and began dating during their work together on the 1938 film "Brother Rat," had long been married to another of his onetime co-stars, Nancy Davis.
Despite concerns in Reagan's camp during his first White House bid about winning election as the first divorced president, Wyman remained scrupulously silent about her ex-husband, as she had during his time as California governor.
Michael Reagan wrote years later that his father "wouldn't have been president being married to Jane Wyman. He needed a Nancy, who was willing to give up her career to be there, by his side."
While her birthdate was widely cited as being in January 1914, her manager Mesnick said Wyman was actually born three years later, a fact she had long obscured for professional reasons because she had wanted to be seen as older.
She was herself married a total of four times to three different men, divorcing the last in 1965.