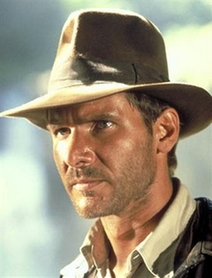 Harrison Ford as Indiana Jones in an undated image courtesy of Paramount Pictures.[Reuters]
The battle to name the new Indiana Jones film is over, and the winner is "The Kingdom of the Crystal Skull."
Forget about "Indiana Jones and the City of Gods" or even "Indiana Jones and the Destroyer of Worlds," two of the potential names registered by producers Lucasfilm Ltd. The next movie featuring the two-fisted adventurer will be called "Indiana Jones and the Kingdom of the Crystal Skull."
Actor Shia LaBeouf, who has been cast to play Jones' son in the film, blurted out the title on stage at Sunday's MTV Video Music Awards -- only to have the news overshadowed by two former husbands of Pamela Anderson scuffling with each other and Britney Spears dancing barely clothed on stage.
But Lucasfilm, which is producing the fourth Harrison Ford-starring installment of the Indiana Jones series, was quick to confirm the new title on Monday.
The film is to be directed by Steven Spielberg and is slated for release in May 2008.
LaBeouf's revelation ends months of speculation as to what the new film will be called.