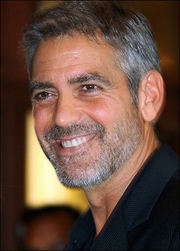 DEAUVILLE, France - American actor George Clooney thanked France for its efforts in the Darfur crisis Sunday as he accepted a prestigious government award marking his achievements in cinema.
Clooney was presented with the "Chevalier des Arts et Lettres" medal by French Culture Minister Christine Albanel on the fringes of the American Film Festival in Deauville, France.
Albanel hailed Clooney as the "quintessence of an American actor," noting his "limitless talent" and "irresistible charm."
Born on May 6, 1961 in Lexington, Kentucky, Clooney came onto the scene in 1994 in the role of Dr. Doug Ross in the television series "ER".
Meaty movie roles came after, including "O Brother, Where Art Thou", "Syriana", "The Perfect Storm", "Good Night and Good Luck" and the "Ocean's Eleven" series.
Clooney has used his fame to raise awareness of issues such as the violence in the Darfur region of western Sudan.
Clooney attended the Venice film festival last week to present his latest film, which is in competition there, the thriller "Michael Clayton," in which he plays a "fixer" for an major New York law firm.