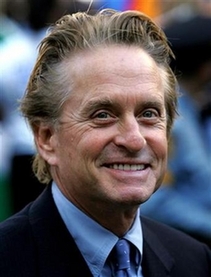 Actor Michael Douglas attends a ceremonial ringing of the Peace Bell at the 61st General Assembly at the United Nations in New York, September 21, 2006.[Reuters]
The 33rd annual Deauville Festival of American Cinema will pay tribute to Michael Douglas, Sigourney Weaver and Sidney Lumet, organizers said Monday.
Lumet's latest movie, "Before the Devil Knows You're Dead," will have its world premiere at the event, which takes place August 31-September 9 in the Normandy beach resort.
The festival's only other world premiere will be Ben Affleck's "Gone, Baby, Gone," the tale of two private dicks on the trail of a missing 4-year-old starring Casey Affleck, Morgan Freeman and Ed Harris.
A selection of Douglas' films will screen as part of his tribute, including his latest picture, "King of California." The festival holds special significance for Douglas, since he met his future wife, Catherine Zeta-Jones, at the 1998 edition.
About half of the 120-plus films on offer will make up a new section titled "American Nights," which will see 240 hours of movies screened around the clock in a 100-seat theater for the duration of the festival. Genres covered will include Westerns, film noir, horror and comedy.
Among new Hollywood fare showcased at Deauville will be Matt Damon thriller "The Bourne Ultimatum" and Western drama "The Assassination of Jesse James by the Coward Robert Ford," which stars Brad Pitt, both movies that will transfer in from Venice. Paul Haggis' Iraq-themed "In the Valley of Elah" -- starring Tommy Lee Jones, Charlize Theron and James Franco -- also is making its way to Normandy after a Venice bow, as is "Michael Clayton," starring George Clooney.
Other French premieres at Deauville include director Frank Oz's comedy drama "Death at a Funeral"; Hal Hartley's "Fay Grim"; the Stephen King adaptation "1408," starring John Cusack and Samuel L. Jackson; Judd Apatow's "Knocked Up"; Farrelly brothers comedy "The Heartbreak Kid"; and "Shoot 'Em Up," which stars Clive Owen as a man protecting a newborn from an army of gunmen.
Deauville also will pay homage to Ida Lupino, one of the first actresses to direct movies, as part of the festival's new focus on the repertoire of classic American cinema. Five of her movies will be screened.