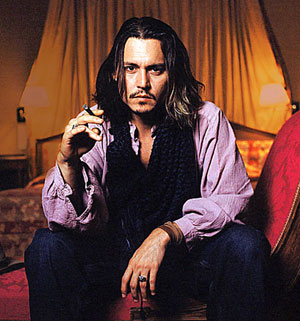 Johnny Depp
Johnny Depp is moving closer to bringing Hunter S. Thompson's autobiographical novel "The Rum Diary" to the big screen, seven years after the project was first announced.
Oscar-winning producer Graham King, the Oscar-winning producer of "The Departed," has acquired all rights to the property, which King would produce with Depp for Warner Independent Pictures.
A spokesperson for King's GK Films banner said it was hoped that production would begin shortly after principal photography is completed on Depp's next film, Mira Nair's crime drama "Shantaram." No shooting dates have been set for either film.
Loosely based on the late author's experience working as a freelance journalist in Puerto Rico in the late '50s, the book was written in 1959 but not published until 1998. Depp would play a reporter who works alongside a motley crew of self-destructive staffers at a struggling San Juan newspaper, where an erotic love triangle emerges.
Bruce Robinson, whose 1987 comedy "Withnail & I" gained a cult following, is writing the screenplay and directing.
Depp previously played Thompson's alter ego in Terry Gilliam's 1996 adaptation of the author's book "Fear and Loathing in Las Vegas" for Universal Pictures.
Many plans to make "Rum Diary" have been announced over the years. The now-defunct indie production outfit Shooting Gallery and SPi Films optioned the book and announced plans to make the film in 2000, with Depp set to star and executive produce and Nick Nolte co-starring. A new producer came on board in 2002, and Benicio Del Toro and Josh Hartnett were soon attached as cast members.
Del Toro reportedly was set to make his directorial debut with "Rum Diary" in late 2003, but the project remained dormant through Thompson's February 2005 suicide. According to their reps, Del Toro, Nolte and Hartnett are no longer attached to the project.