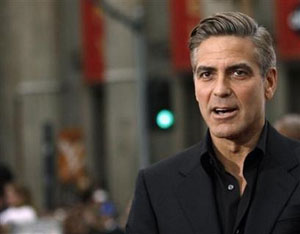 George Clooney attends the premiere of 'Ocean's Thirteen' at the Grauman's Chinese theatre
in Hollywood, California June 5, 2007 file photo. [Reuters]
The Toronto International Film Festival unveiled another slew of premieres on Tuesday, including gala slots for George Clooney starrer "Michael Clayton" and Gavin Hood's "Rendition" starring Reese Witherspoon, Jake Gyllenhaal and Meryl Streep.
"Clayton," the directorial debut of "Bourne Identity" screenwriter Tony Gilroy, will receive the red carpet treatment at Roy Thomson Hall. The Warner Bros. legal drama is expected to bow in Venice and possibly play at the Deauville festival before shifting to Toronto for its North American premiere. It opens October 5 in the U.S.
Also getting a gala sendoff in Toronto is "Rendition," a New Line Cinema thriller set for an October 21 release stateside and a December 21 bow in Canada.
Hood's "Tsotsi" helped raise the profile of South African films, earning the top audience award at Toronto in 2005 before going on to win the Academy Award for best foreign-language film.
Films from veteran directors headed to the festival's Special Presentations sidebar include Neil Jordan's "The Brave One," a Warner Bros. release starring Jodie Foster and Mary Steenburgen, and Peter Greenaway's "Nightwatching," a Rembrandt biopic that will have its international premiere here after bowing in the Netherlands.
Toronto also has booked "Nothing Is Private," the feature directorial debut of "Six Feet Under" creator Alan Ball. Ball penned the screenplay for "American Beauty," which bowed in Toronto in 1999 before going on to Oscar acclaim. Aaron Eckhart, Maria Bello and Toni Collette topline the drama about sexual politics and bigotry set against the backdrop of the Gulf War in 1991.
Indian director Santosh Sivan ("Asoka") will make his English-language debut in Toronto with "Before the Rains," a tale set in 1930s India about a married British colonialist (Linus Roache) accused of having an affair with his housemaid (Nandita Das). And Julian Schnabel's Cannes award winner "The Diving Bell and the Butterfly" will unspool as part of the sidebar.
The Toronto International Film Festival runs September 6-15.