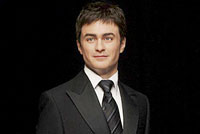 London's Madame Tussauds has made Harry Potter star Daniel Radcliffe its youngest wax work ever created. Despite being immortalized at such a young age many thinks that the wax statue looks older with stubble on its face and a conservative suit.
Benn Lovett, an official at the wax museum, said the statue is made maturer than the real person to avoid redoing it in few years. He further explained that a Harry Potter look is also hindered. He said, "Daniel is nearly 18 and he has some serious acting roles under his belt and we wanted to reflect that. For the last couple of years, people have been asking for a Daniel Radcliffe figure and they said we should include him as a British star in his own right."
It was reported that Radcliffe did not model for the statue himself due to a hectic schedule and therefore the sculptors had to do their own research. "We had a lot of research from photos and film footage," sculptor Colin Jackman said. "Most times, celebrities will sit, but in this case, it did not happen."
The statue was displayed at the museum on July 2, ten days before the latest installment of Harry Potter series "Harry Potter and the Order of the Phoenix" premieres in U.K.