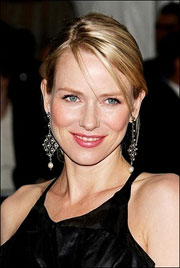 British-Australian actor Naomi Watts will star in a film entitled "We Are All the Same" in which she adopts an AIDS-stricken black baby, Variety magazine reported Thursday.
The script by "Hotel Rwanda" director Keir Pearson is based on the book that bears the movie's same title, about a South African woman who traveled the world with her adopted child raising awareness on discrimination, the magazine said.
"It's one of those passion projects that you hope you become involved in," said Scott Nemes, one of the producers of the movie.
Watts, 38, star of "King Kong" and known as a friend of superstar Nicole Kidman, emerged as a film star in 2001 after her double role as Betty Elms and Diane Selwin in David Lynch's "Mulholland Dr."
Two years later, in 2003, Watts bagged an Oscar nomination for best actress for her role as Cristina Peck in "21 Grams," by Mexican director Alejandro Gonzalez-Inarritu.