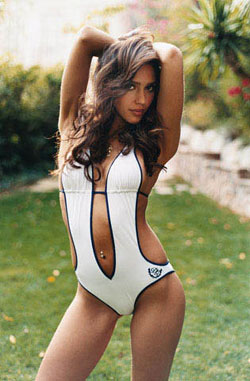 Jessica Alba poses for GQ magazine

Jessica Alba hopes that her current rash of films will help people - especially Hollywood producers - see beyond her looks and recognise her acting talents.
As well as the new Fantastic Four film, she's recently filmed comedies Bill and Good Luck Chuck, drama Awake and horror remake The Eye.
She told GQ recently: "I hope all my new work will help producers in getting past my hotness."
"Right now, I'm just exploring what my contribution to this business is - other than wearing a bikini and getting caught by the paparazzi."
"I try not to make the headlines [using my looks]. I'm self-conscious about this. I try to not make my presence known. I have my own fashion style and do not try to fit in. I don't have my breasts under my chin, I'm not showing butt cheeks, nor much legs. I don't go for the trendiest look."