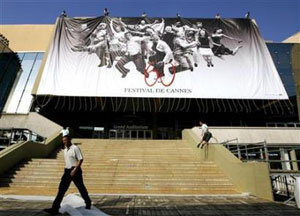 Workers on the roof of the Festival Palace use ropes to position the official poster of the 60th Cannes Film Festival in Cannes May 11, 2007.[Reuters]
Cannes Film Festival turns 60 this year, and the diamond milestone means a long line of stars jostling with lesser-known names of arthouse cinema for media attention and fans' adoration on the famed red carpet.
The opening film gives a taste of both worlds, with respected Chinese director Wong Kar Wai presenting his English-language movie "My Blueberry Nights" featuring singer Norah Jones, Jude Law and Natalie Portman.
The glamourous Wednesday evening gala screening is the start of 11 days of networking, air kissing, dealmaking and backstabbing in the sun-kissed Riviera resort, host to the grande dame of the world's film festivals.
The main competition lineup features over 20 films, including five U.S. productions and heavyweight directors like Quentin Tarantino, the Coen brothers, Gus Van Sant, Sarajevo-born Emir Kusturica and Russia's Alexander Sokurov.
Critics are calling the selection one of the strongest in recent memory, although competitions have a habit of promising more than they deliver.
"I think this is probably the Cannes selection that has excited me most in a decade," said Mark Cousins, a leading film critic and Cannes veteran.
"It is because of the likes of Van Sant, Sokurov, Kusturica and Wong - these are major directors who have consistently delivered quality films over a number of years."
He expects Van Sant and the Coen brothers to stand out among the U.S. entrants, while Tarantino's "Death Proof," already in U.S. cinemas as part of a double bill, was a box office flop.
In the race for the Palme d'Or top prize they are up against more obscure film makers like France's Catherine Breillat and Christophe Honore, Kim Ki-duk and Lee Chang-dong of South Korea, Romania's Cristian Mungiu and Ulrich Seidl of Austria.
MUSIC, HEALTHCARE, ENVIRONMENT
As always, the competition risks turning into a sideshow, with Hollywood sequel "Ocean's 13," starring George Clooney and Brad Pitt, premiering in Cannes, and Angelina Jolie promoting "A Mighty Heart" based on the story of slain reporter Daniel Pearl.
They are just two among hundreds of pictures being promoted in Cannes, where the booming market has made it a key date in film executives' calendars.
There are no major blockbusters at the festival this year, unlike 2005's Star Wars sequel and 2006's "The Da Vinci Code," which went on to gross $758 million worldwide despite a critical mauling in Cannes.
There are also few overtly political films, although Michael Moore's documentary "SiCKO," about the U.S. healthcare system, is likely to cause a stir just as anti-Bush polemic "Fahrenheit 9/11" did when it won the 2004 Palme d'Or.
Heartthrob Leonardo DiCaprio is in town with "The 11th Hour," his environmental documentary that is the latest sign of Hollywood's growing preoccupation with global warming.
And although no British film appears in the main competition in 2007, after Ken Loach won the Palme d'Or in 2006 with "The Wind That Shakes the Barley," some of its biggest musical acts are set to light up the silver screen.
Martin Scorsese is expected to present clips from his upcoming documentary about the Rolling Stones, "Control" looks at the life and premature death of Joy Division's Ian Curtis and "The Future is Unwritten" examines the Clash's Joe Strummer.
U2 frontman Bono is expected in Cannes for "U2 3D," another "rockumentary" on the Croisette this year.