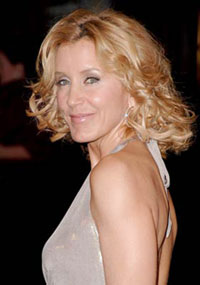 Desperate Housewives star Felicity Huffman has jumped to Lindsay Lohan's defense, insisting the young actress was a delight to work with on the set of Georgia Rule.
Huffman plays the 20-year-old actress' alcoholic mother in the film, which also features Jane Fonda, and she has nothing but praise for the Mean Girls star.
This comes after a producer of the film publicly admonished Lohan for her tardiness on set and Fonda admitted she was forced to march into the young actress' trailer when she was late for a scene.
Huffman hopes that once moviegoers see the new film, the "gossip" surrounding Lohan, who recently underwent a stint in rehab to curb her wild ways, will disappear.
She tells Parade magazine, "To me, Lindsay was a complete and utter delight. The minute I met her I just loved her. She meets you with an open heart and wide-open eyes and gets right in there.
"She cares about the work. She throws herself in 100 percent. I just adored her. She's fantastic in the movie. It doesn't get any better than what she did. Brilliant."