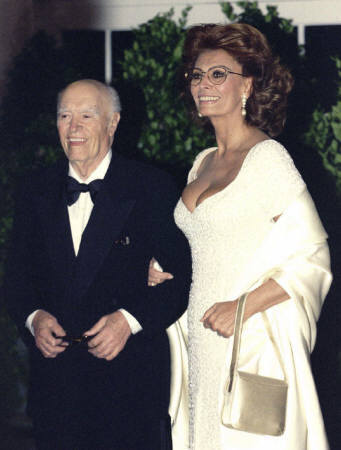 Sophia Loren and husband Carlo Ponti arrive at the White House for a state dinner in this April 2, 1995 file photo. Ponti, one of Italy's best known film producers, has died at the age of 94, his family said on Wednesday. [Reuters/Gary Cameron]

ROME - Carlo Ponti, one of Italy's best known film producers and the husband of actress Sophia Loren, has died at the age of 94, his family said on Wednesday.
In his 50-year career, Ponti produced more than 150 films, including "La Strada" in 1954, "Dr Zhivago" in 1965 and "Blowup" in 1966.
But he was equally famous for discovering a teenage Loren and turning her into one of the world's most glamorous stars.
"His death marks the end of an era for film-making because Ponti embodied a great and courageous push to innovate, promoted unforgettable talents and enjoyed huge success," Culture Minister Francesco Rutelli said.
Alessandra Mussolini, niece of Loren and grand-daughter of fascist dictator Benito Mussolini, said Ponti had been in a Geneva hospital since Christmas.
"His wife and children were with him. Sophia has always been with him throughout," she told Reuters.
Italy's golden couple of the movie industry met in 1952 when Ponti, already an established producer and a married man, cast his vote for a poor 17-year-old girl from a Naples slum in a beauty contest.
Loren made her name soon afterwards when Ponti, 20 years her senior, gave her a part in a semi-documentary. He then stood back as she became Italy's sex symbol, standing in comparison with Brigitte Bardot and Marilyn Monroe.
In 1957, after unsuccessfully seeking a Vatican annulment of his first marriage -- Italy then had no divorce laws -- Ponti married Loren in Mexico.
The furore over the affair forced the couple to leave Italy, where he was charged with bigamy and was not acquitted until 1968. They moved to Hollywood and later had two sons; bitter towards his homeland, Ponti became a French citizen in 1965.
From 1950 to 1955 he worked with producer Dino de Laurentiis, but the partnership broke up over budget squabbles.
He produced films by Federico Fellini, Vittorio De Sica, George Cukor and Sidney Lumet. Among the classics to his name were "Marriage Italian Style" (1964) and "A Special Day" (1977).
"I MAKE PICTURES, NOT DEALS"
In his absence, he was sentenced in 1979 by an Italian court to four years in jail and fined $26 million for illegally exporting money. He was cleared of the charges in 1987.
Ponti avoided interviews about his personal problems, but spoke freely about his work.
He had disdain for producers who kept their eyes on the cash register. "I don't make deals, I make pictures," he often said.
He began making films in 1938 by accident, when a film producer client of the law firm he was working for fled fascist-era Italy and asked him to take over.
"Even then my ambition was to make films of quality, preferably taking the subjects from literature and using directors from a literary background," Ponti once said.
But he had no illusions about the realities of his business: "There is no sense in making a film that no one will go and see, just to create a perfect, but useless, work of art," he said.
He was an avid reader and is reputed to have been the first Italian to order a copy of "Dr Zhivago", by the late Russian writer and Nobel Prize winner Boris Pasternak, placing the order by telephone from Hollywood.
He then made the book into one of his most successful films.