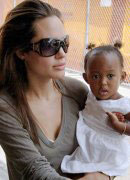 Mum Angelina Jolie might have won an Oscar (for Girl, Interrupted) and Dad Brad Pitt might regularly be voted the Sexiest Man Alive but that doesn't mean they're the biggest divas in their family.

Angelina told People magazine that daughter Zahara, who turns two next month, rules the roost: "I bet if you asked Brad, he'd say Zahara [too]. Mad is very smart, but he's got a certain sense of calm."

"Zahara is possibly the funniest person I've ever met in my life бн She's definitely the biggest personality in the house."

She added that Zahara knows how to play her parents already too: "I am the disciplinarian. Brad can be, but if Z doesn't get the bottle from me, she'll very quickly run to Daddy."