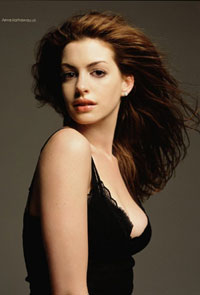 Anne Hathaway is in negotiations to take the female lead in the big screen version of "Get Smart."
Star Steve Carell has been attached to the Peter Segal-directed project for a long time and production is finally expected to begin in March.
According to Variety, Hathaway ("The Princess Diaries") is close to signing on to play Agent 99 opposite Carell's Maxwell Smart. The parts were played by Barbara Feldon and Don Adams in the original television series, which was created by Mel Brooks and Buck Henry.
The latest incarnation of the "Get Smart" script was written by "Failure to Launch" scribes Tom Astle and Matt Ember.
After appearing last winter in the Oscar-winning drama "Brokeback Mountain," Hathaway had a surprise smash this summer with "The Devil Wears Prada."