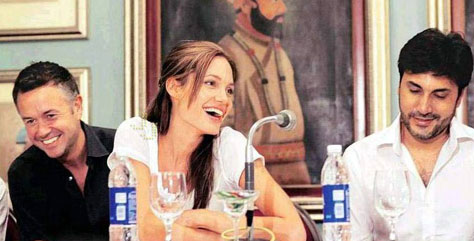 Angelina Jolie spoke to the media in Mumbai yesterday (Noe 15) during a press conference to talk about her shooting experience in India for A Mighty Heart.
MUMBAI - Angelina Jolie, who portrays the wife of a murdered American journalist in the film "A Mighty Heart," is keen to do justice to a role she says is more about breaking down cultural barriers than terrorism.
Jolie plays the part of Mariane, wife Wall Street Journal reporter Daniel Pearl who was kidnapped and murdered in Pakistan in 2002 while investigating Islamic militants in the aftermath of the September 11, 2001 attacks on the United States.
"Playing her role is certainly challenging for me, as I have to make the world understand this woman and her family," the sultry actor, who has been shooting in India for almost a month, said in remarks published on Thursday by the Times of India.
"We need to tell the story of Daniel Pearl and the reason we are making this film is because it's very important to have a dialogue between the two cultures," she told the daily.
Barring a few background shots, the movie could not be filmed in Pakistan due to security fears and much of it is taking place in the western Indian cities of Pune and Mumbai.
Jolie said the film was not about terrorism but the strength and resilience of a bereaved wife. She said Mariane did not harbor any ill will toward Pakistan even though she had reasons to be "embittered and angry" about what happened to her.
"She still loves all cultures," Jolie was quoted as saying in the Hindustan Times daily.
"A Mighty Heart" is being produced by Brad Pitt, Jolie's partner, who is also in India along with their three children. Dan Futterman plays Pearl.
The film is an adaptation of Mariane's book, "A Mighty Heart: The Brave Life and Death of My Husband Danny Pearl."