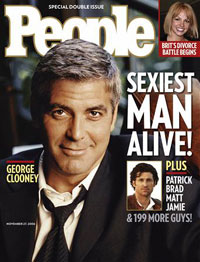 Actor George Clooney is shown on the November 26, 2006 cover of People magazine, in this publicity photo released by the magazine to Reuters on November 15, 2006.
Coming off a pivotal year in which he earned three Academy Award nominations and clinched an Oscar for his performance in "Syriana," actor George Clooney was again named People magazine's "Sexiest Man Alive" on Wednesday.
The accolade marks the second time Clooney, 45, has topped the magazine's annual list of Hollywood beefcake, having been so honored in 1997. His close friend and co-star Brad Pitt is the only other celebrity twice dubbed People's "sexiest man."
"This one's going to be hard for Brad since he's been 'Sexiest Man Alive' twice," Clooney joked in an interview with People. "He's enjoyed that mantle. I'd say, 'Sexiest Man Alive' to him, and he'd go, 'Two-time.' So that's been taken away."
Cynthia Sanz, a member of the magazine's editorial panel that selects its "sexiest man" honoree, said Clooney was chosen for a combination of factors.
"His big movies came out at the end of last year, he has been active in the campaign to help people in Darfur, obviously he's great looking -- we just thought he was the total package this year," she told Reuters.
Sanz added that Clooney's status as one of the world's most eligible bachelors helped. "It's a little more fun when the sexiest man alive is available," she said.
Clooney headed to California from his native Kentucky in the early 1980s to work as a chauffeur for his aunt, singer Rosemary Clooney, before making his own way in show business.
He got his big break on TV hospital drama "ER," playing pediatrician Dr. Douglas Ross. After leaving the show, he went on to establish himself as an A-list leading man.