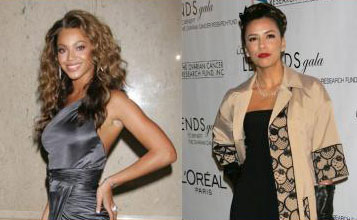 Beyonce Knowles and Eva Longoria are taking on one of their most challenging roles, playing lesbian lovers.
The pop star and Desperate Housewives actress have been approached to star in period piece Tipping The Velvet, to be directed by Sofia Coppola. Reported Contact Music.
The movie is based on a risqué Sarah Waters's novel; it tells the story of a 1890s music hall star and her lesbian lover. Longoria says "Yes we are both thinking about taking on this challenging role. The novel is such a wonderful love story.
Knowles adds, "Brokeback Mountain got great reviews, so we are sure this is the right time for this divine story of love between two girls."