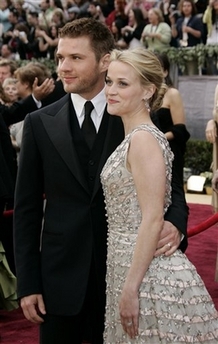 Actress Reese Witherspoon and her husband Actor Ryan Phillippe pose at the Academy Awards March 5, 2006, in Los Angeles. Britney Spears and Kevin Federline have now joined a line of showbiz power couples where the successful woman leaves the underperforming spouse behind. Just last week came the news about Witherspoon, Hollywood's highest-paid actress, and Phillippe splitting. (AP Photo/Kevork Djansezian)
LOS ANGELES - Nearly two weeks after Reese Witherspoon announced her separation from Ryan Phillippe, the actress has filed for divorce. In Wednesday's filing, Witherspoon cites "irreconcilable differences" and seeks physical custody of the couple's two children £­ 7-year-old Ava and 3-year-old Deacon.
Witherspoon, 30, also seeks visitation for Phillippe, 32, and "exclusive use of the family residence." Witherspoon also asked for the court to terminate its ability to award spousal support to Phillippe.
A call to Phillippe's publicist, Nancy Ryder, was not immediately returned Wednesday.
The filing does not list separate or community property, saying the nature of the assets has yet to be determined.
The couple, who costarred in the 1999 release "Cruel Intentions," married that year. Their separation was announced Oct. 30 by a publicist who declined to elaborate on the reason for the split.
In March, Witherspoon won an Academy Award for her role as June Carter Cash in 2005's "Walk the Line." Phillippe costarred in the best-picture Oscar winner, "Crash," and is starring in Clint Eastwood's latest film, the World War II drama "Flags of Our Fathers."