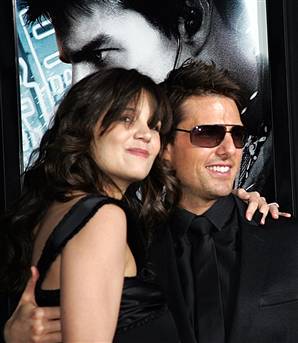 (photo:AP)
Tom Cruise's romantic gestures aren't limited to couch jumping.
The "Top Gun" star reportedly shelled out $10,000 for a dinner with fianc¨Ĥe Katie Holmes. Cruise took the mother of his daughter to Mastro's Steakhouse in Beverly Hills, according to In Touch Weekly, and to ensure their privacy, he paid 10 grand for a private dining room usually booked by groups of 15 or more.
Holmes is said to have barely touched her grilled sea bass, but Cruise chowed down on a whopping porterhouse steak, a Caesar salad and three side dishes: wasabi mashed potatoes, French fries and onion rings - and he topped it all off with a dessert of cheesecake and chocolate-covered strawberries. The pair were celebrating not only their impending wedding, but also Cruise's new gig at United Artists.
Looks like Holmes is developing pricey tastes. In addition to selecting a lavish Armani wedding gown, ITW also reports that the bride-to-be has selected the scent she'll wear on her wedding day: Clive Christian No. 1, one of the most expensive perfumes in the world, which retails for $2,350 an ounce.