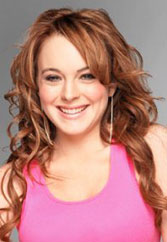 Lindsay Lohan is set to bring a long-forgotten Tennessee Williams screenplay, "The Loss of a Teardrop Diamond," to the big screen.

The screenplay tells the story of Fisher Willow (Lohan), the disliked 1920s Memphis debutante daughter of a plantation owner with a distaste for narrow-minded people and a penchant for shocking and insulting those around her.

After returning from studies overseas, Fisher falls in love with Jimmy (played by Chris Evans), the down-and-out son of an alcoholic father (David Strathairn) and an insane mother who works at a store on her family's plantation. She tries to pass him off as an upper-class suitor to appease the spinster aunt (Ann-Margret) who controls her family's fortune, but when she loses a diamond, it places their tenuous relationship in further jeopardy. Ellen Burstyn is attached to play Fisher's mother.

According to a source close to the indie film, production is expected to begin next year.

The script was published in the four-part collection "Stopped Rocking and Other Screenplays" in 1984.

In his introduction, Richard Gilman said it was discovered after Williams' death and is believed to have been written in the 1950s. He wrote that "Diamond" was "perhaps the strongest of the four scripts (in the book) and the most likely candidate for filming."