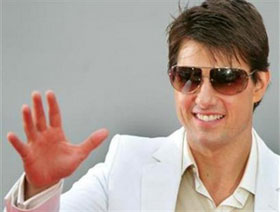 Tom Cruise waves to his fans as he arrives for the Japanese premiere of his movie 'Mission Impossible III' in Tokyo June 20, 2006.
Two months after his bitter break with Paramount Pictures, superstar Tom Cruise has teamed with Metro-Goldwyn-Mayer Inc. to revive United Artists, the fabled but moribund studio founded by four of the biggest names in early Hollywood, MGM said on Thursday.
Under his new partnership with MGM, Cruise will produce at least four films a year for United Artists with his longtime business partner, Paula Wagner, who will oversee day-to-day operations of UA as its chief executive officer.
The pair also received an unspecified ownership stake in UA, an historically freewheeling enterprise that was long known as "the company built by the stars" but had grown virtually dormant since its MGM parent changed hands in 2005.
The deal also gives a new creative platform for Cruise, 44, a once invulnerable star whose Hollywood clout was widely seen as diminished by the abrupt end to his 14-year production deal with Viacom Inc.-owned Paramount in August.
In an unusually blunt and highly public parting shot at Cruise, Viacom Chairman Sumner Redstone said the actor's "recent conduct has not been acceptable to Paramount."
He was referring to a string of publicity faux pas by Cruise ranging from his manic, couch-hopping profession of love for actress Katie Holmes last year on "The Oprah Winfrey Show" to his strident denunciations of psychiatry in defense of his belief in the Church of Scientology.
'THE BIGGEST STAR IN THE WORLD'
The agreement with MGM allows Cruise, whose latest Paramount film, "Mission: Impossible III," grossed more than $390 million worldwide, to star in pictures for UA while remaining available to appear in movies for other studios.
"We were looking for a strategic partner (for UA) and we've found a strategic partner and it just so happens that he's the biggest star in the world," MGM spokesman Jeff Pryor told Reuters.
Under their new deal, Cruise and Wagner will now exercise control over UA's movie slate -- about four films a year to start -- from initial development to giving the go-ahead to new productions, MGM said in a statement announcing the deal.
But that ability to "greenlight" production will be "subject to certain parameters," MGM said. The new UA will remain located at the MGM studios in Los Angeles.
As reconstituted, UA will function as a supplier of feature films to MGM, with the parent studio and its equity partners fully financing production and development of those films. Privately held MGM also will handle worldwide marketing and distribution for UA films.
"The talent friendly studio will be reborn as a place where producers, writers, directors and actors can thrive in a creative environment," MGM said in the statement.
United Artists was founded in 1919 by screen legends Charlie Chaplin, Mary Pickford and Douglas Fairbanks and pioneering director D.W. Griffith -- the four biggest names in motion pictures at the time. Their goal was to give artists more creative control and profits.
Formation of the studio elicited the famed remark from Richard A. Rowland, then president of Metro Pictures: "So the lunatics have taken charge of the asylum."
After going public decades later and being acquired by financial services company Transamerica, UA secured distribution rights to films released by MGM in 1973 and was purchased outright by MGM eight years later.
Long controlled by billionaire Kirk Kerkorian, MGM was acquired in April 2005 by a consortium of private equity firms and media companies, including Comcast Corp. and Sony Corp.
The deal with Cruise was announced by MGM Chairman and Chief Executive Officer Harry Sloan, who has since led an effort to revitalize the studio after taking over last October and is now turning his attention to rejuvenating United Artists.
UA's film library contains more than 1,200 titles, including such classics as "Midnight Cowboy," "Some Like It Hot," "Annie Hall" and the "Rocky" and "Pink Panther" movies. It also includes "Rain Man," which co-starred Cruise and earned four Academy Awards, including the Oscar for best picture in 1988.