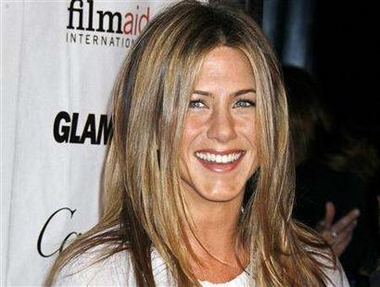 Actress Jennifer Aniston arrives at the Glamour Reels Moments event, which gives women who are usually in front of the camera a chance to direct short films about real life stories, in Los Angeles October 16, 2006. REUTERS/Fred Prouser
Jennifer Aniston is making her first home purchase since she and Brad Pitt parted ways.
The Emmy-winning actress is buying a house in Beverly Hills for $15 million. The home, designed in the early 1970s by architect Hal Levitt, is being rebuilt and was put under contract while in construction. The one-story house, on half an acre, has six bedrooms and seven bathrooms in 9,000-plus square feet, according to public records.
Levitt, whose trademark is gray-and-black-onyx terrazzo floors, is popular with the celebrity crowd. Others who have owned homes designed by the Modernist are the Olsen twins; Darren Star, creator of Sex and the City, and Norman Cousins, the late writer, philosopher and editor of the Saturday Review of Literature.
Since Aniston and her actor husband called it quits, she has been leasing a two-bedroom home with 50 feet of beachfront in Malibu. The house rents in the vicinity of $25,000 to $30,000 a month on a year's lease. Rent on the property would skyrocket to $100,000 a month or more in July and August on a month-to-month lease.
Before marrying in 2000, Aniston owned a small home in Hollywood Hills. In April of this year, she and Pitt sold their Wallace Neff-designed Beverly Hills home for close to its $24.95 million asking price.