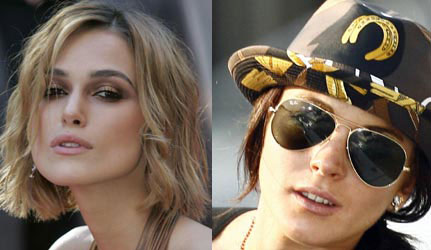 Lindsay Lohan will star alongside British actress Keira Knightley in a new film of Dylan Thomas's life.
The Best Time Of Our Lives, which focuses on the life of the legendary Welsh poet and his wife Caitlin, was written by Knightley's mother Sharman Macdonald.
Due to start shooting next April, the movie revolves around the real-life incident in which Thomas' childhood friend Vera Phillips, played by Knightley, and her eventual husband William Killick attacked the house of the poet and his wife with a machine gun and a hand grenade.
The rest of the cast list has not yet been announced, but Lohan has said her character will have a strong unspoken bond with that Pirates of the Caribbean star Knightley.
'Keira is older than me, but she kind of has a mysterious relationship with my lover and there's somewhat of a lesbian undertone,' she said.
The film is one of two currently on the cards about the life of the Welsh poet. The other, entitled Caitlin, is being made by Welsh director Marc Evans and will star Michael Sheen, Miranda Richardson and Pierce Brosnan.

Evans' film will focus more on the tempestuous relationship between Thomas and his wife, but the process of getting the movie off the ground has not been straightforward.

No firm date has yet been set for filming, with a possibility that the first scenes will not be shot until 2008.