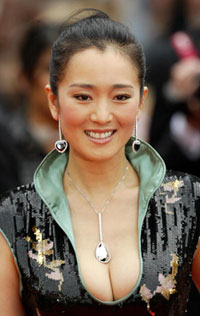 Gong Li
The Hollywood blockbuster "Miami Vice" starring Gong Li will be released next month in China. She has recently done dub work for the movie in a Shanghai film studio, according to reports on sina.com on October 12.
Gong recorded a dub for the character she actually plays in the movie. According to Di Feifei, "Miami Vice" dubbing director, Gong spent Sep 25 and 26 doing dub work in a Shanghai film studio.
"We sent the translated script to Gong Li but she said she didn't have time to dub it, so we found a substitute. But she unexpectedly said she could do it just before we decided to start," said Di. "Miami Vice" Gong Li's first Hollywood film, will premiere in China on Nov.1.Though the film wasn't very successful overseas it may receive complimentary reviews in Chinese mainland.
Gong has a secret agreement with dubbing team.
Risque scenes have been cut out of the original "Miami Vice" according to producer. But the cuts will not affect the plot, nor Gong's dubbing. "But when she dubbing, I thought she was not dubbing for her role but for a different one," Di said. "Because the role had both English and Spanish lines, Gong now has to adapt to the modified Chinese script which is far different from the original English edition."
"It's difficult, awkward and totally different for her," Di said. Until the entire film was finished,Di dared not say Gong had a tacit agreement with the dubbing team. "Now we can see Gong Li has the same voice both in the translated edition and the original, except with minor differences in her pronunciation," Di said.
Gong takes her work seriously and has a high regard for directors.
This is the first time Gong has acted in a film, and she complained to Di that dubbing for "Miami Vice" was difficult.
"Dubbing not only requires acting, but also voice skills," said Di. After all, she said, no one is more familiar with the plot than Gong. She said it took a day and a half for Gong to act out the movie in Chinese dub.
"She has high regard for directors, and knows how to act. I sometimes pointed out mistakes in her pronunciation or emotion, and as long as I told her what was wrong, she would do it again as I asked," said Di.