Jessica Alba refused to strip for 'Sin City'
(Agencies)
Updated: 2006-10-13 10:10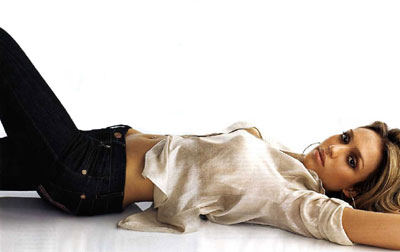 Even though she played a stripper in Sin City, actress Jessica Alba kept the audience deprived of seeing her naked body, as she refused to go nude before the cameras.
The 25-year-old was given the option to appear naked by the film's directors Frank Miller and Robert Rodriguez, but decided to pass up the offer.
She tells Elle magazine, "I don't do nudity. I just don't. Maybe that makes me a bad actress.
"Maybe I won't get hired in some things. But I have too much anxiety."
The sultry actress, who recently has been voted as the most kissable woman, isn't into baring much skin in real life either, as one of America's leading magazines has quoted her as saying,"I never dress for men -- I dress more for women," "I'm guilty of wearing too many sweatsuits. I have such long hours that I want to be in my pajamas."

Alba was furious when Playboy magazine bosses published a photo of her wearing a bikini in their March issue, which she claims suggested she had posed naked inside.
She adds, "It was against who I am and what I represent. I've been working so hard to be somebody else, and it just wasn't cool."
Playboy publisher Hugh Hefner apologized and made undisclosed donations to two charities Alba supports to help make amends.