Los Angeles - "The Last Kiss" premiered at the Director's Guild in Los Angeles on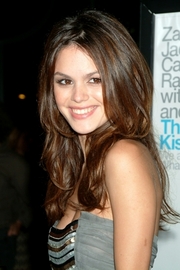 Wednesday night, and all eyes were on "The O.C." star Rachel Bilson as she walked the red carpet of her first feature film. The gorgeous 25-year-old plays a teenage seductress in the drama, stealing co-star Zach Braff away from his pregnant partner (played by Jacinda Barrett).
They, and Bilson's other co-stars - Casey Affleck, Blythe Danner, Eric Christian Olsen, Marley Shelton - joined actor-turned-director Tony Goldwyn for the festivities, along with Elizabeth Banks, Sarah Chalke, Judy Reyes, Sumner Redstone, and Bilson's "O.C." co-star and boyfriend Adam Brody.
As Bilson told a group of reporters earlier, it was a bit disconcerting for her when she shot her very first sex scene with Braff for "The Last Kiss"; disconcerting for a number of reasons, one being the fact that she does have that steady boyfriend.
"When you are thrown into these situations where you have to pretend to have sex with a guy on camera, it gets a little awkward because you are [thinking] 'It's not cheating, yet I am making out with another guy!' And I would just say doing my first sex scene would have to be the most difficult thing ever," Bilson said.
Happily, as she tells it, it turned out to be less difficult than she had imagined.
"I was terrified!" Bilson admitted. "But Zach really helped me through it, and we're friends, so he made it very comfortable, and Tony made it very comfortable, and it was actually a really nice setting. And I'm happy I did it, because I can say I did my first sex scene, and I never have to do that again!"
Now that she has crossed that milestone, the actress revealed her next big goal, one that will have to wait until at least next summer (when her television show goes on hiatus again) for her to fulfill.
"I love musicals. It would be fun to do something like that, because I love to sing and dance. It'd be fun to play like an old jazz singer, you know?"