Zhang Ziyi easy to work with, director says
(AP)
Updated: 2006-08-15 10:43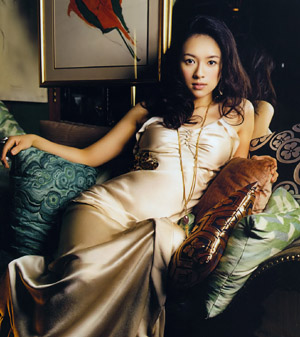 Zhang Ziyi didn't act like a prima donna on the set of a recent Chinese movie despite her newfound Hollywood fame, agreeing to shave her eyebrows for the role and even serving homemade soup to the crew, the film's director said.

"Before we worked together, I might have thought, 'Oh, Zhang Ziyi, a big star, it won't be easy to work with her,"' Feng Xiaogang, who cast Zhang in his upcoming film, "The Banquet," told The Associated Press on Sunday.
"But when the work got underway, I asked her to shave her eyebrows. She did it. During filming, she was very thoughtful. When she saw people in cinematography and the art department were working hard, she'd make soup and bring it to them," Feng recalled.
"Our collaboration was especially happy," he said.
Feng said Zhang was sad when she had to leave "The Banquet" to promote the film "Memoirs of a Geisha" in the U.S., and had been eager to get back to the set.
Zhang shot to international fame after appearing in "Crouching Tiger, Hidden Dragon." She has also starred in "Rush Hour 2."