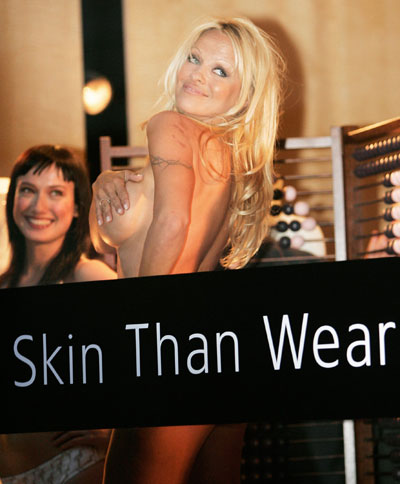 Actress Pamela Anderson stands naked in the front window of fashion designer Stella McCartney's boutique in London June 28, 2006, at the first ever PETA (People for the Ethical Treatment of Animals) Europe humanitarian awards. REUTERS/David Moir (BRITAIN)
Former "Baywatch" beauty Pamela Anderson sparked a media frenzy in London June 28 night as she disrobed in the window of Stella McCartney's Mayfair boutique.
Anderson was protesting the use of fur in fashion for PETA's (People for the Ethical Treatment of Animals) annual gala event, and provided the show in the shop windows.
Covering the naughty bits, Anderson plastered a banner saying "I'd rather bare skin than wear skin", Anderson went on later criticizing fashionistas Jennifer Lopez and Beyonce Knowles for utilizing fur in their fashion lines, and personal use.
According to PageSix.com, Anderson was reported to have said, "My message would be to please start using fake fur. It's terrible because people see stars like J.Lo and Beyonce wearing fur and they don't think about the cruelty that goes into it."
At the PETA awards event, Anderson gave awards for like-minded campaigners including actress Gillian Anderson, rocker Chrissie Hynde, actor Sir Roger Moore and tennis legend Martina Navratilova.