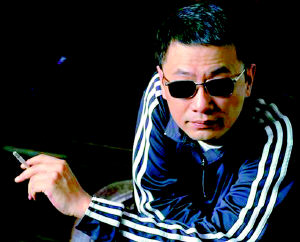 Wong Kar-Wai
Wong Kar-Wai is this year's jury president in Cannes when the 59th edition of the world famous film festival in the lovely town on the French Mediterranean cost is being held from 17th to 28th May.
The critically acclaimed director from China already presented 4 of his film at the Cannes Festival 2004's 2046, in the year 2000 his In The Mood for Love was in for competition and 3 years before Happy Together got him his first, and till now only, Palm D'Or.
Along with Wong Kar-Wai , Italian actress Monica Bellucci, Helena Bonham Carter, everybody's darling Zhang Ziyi, Hollywood actor Samuel L. Jackson, Argentinean director Lucrecia Martel, French director Patrice Leconte, their Palestinian colleague Elia Suleiman and actor director Tim Roth will be judging the movies shown at this years edition.
20 films are presented in the main Competition, alongside with many other films in many other categories. The Festival Officials said that they were especially looking to give upcoming young directors a chance, as they introduced 2006 as a year of ¡°innovation and recreation¡±. ¡¡¡¡
Currently Wong Kar-Wai is doing pre-production for his United States set My Blueberry Nights starring Norah Jones and preparing for The Lady from Shanghai with Nicole Kidman and Tony Leung. ¡¡


Trivia:
Born in Shanghai but emigrated to Hong Kong at age 5 leaving a brother and sister behind. Did not see them for a decade.
Did not speak the local dialect of Hong Kong, Cantonese, until aged 13.
Dropped out of an art school and joined a screenwriter's program in 1980.
Does not use detailed scripts for his films.
Never went to film school.
He claims that his non-linear style of story-telling is inspired by the late Argentinian writer Manuel Puig's novel titled "The Buenos Aires Affair".
Wife Esther and son Cheng, now 9 years old (2004), spend lots of time in New York with Esther's relatives.
The director with the most films (6, all directed between 1989 to 2000)selected among the Best 100 Chinese Motion Pictures selected by Hong Kong Film Awards in celebration of 100 years of movies.
1st Chinese to win the Best Director Award at Cannes film Festival (1997)
[January 5, 2006] It was announced that he has been selected President of the Jury for the 2006 Cannes Film Festival.