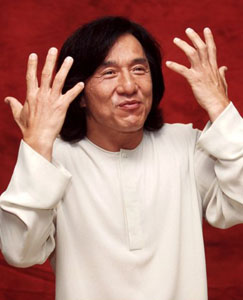 Hong Kong - Actor and stuntman Jackie Chan, a star of more than 60 action movies including Shanghai Knights and Cannonball Run, has been hurt by a stuntman wearing the 'wrong shoes', according to statement on the star's website Tuesday.
Chan, who celebrates his 52nd birthday on April 7, suffered chest pains and was taken to hospital for a check-up after sustaining the injury on the Hong Kong set of the actor's latest action-comedy, Rob-B-Hood.
In the statement, Chan said doctors pronounced him in 'good shape.' But while there was little visible evidence of injury, he continued to be in pain for several days after the accident on March 23, but was now feeling better.
He said: 'These things just happen. I always put safety first when filming, but still, sometimes things just go wrong. It was just an ordinary accident. The stuntman working with me had on the wrong shoes and I got hurt.'
Rob-B-Hood, currently being filmed in Hong Kong, is about a group of gangsters who kidnap a baby. Chan, who is also an UNICEF/UNAIDS ambassador, made his first film, New First of Fury, in 1976.