Pictorial tribute to Dunhuang pioneer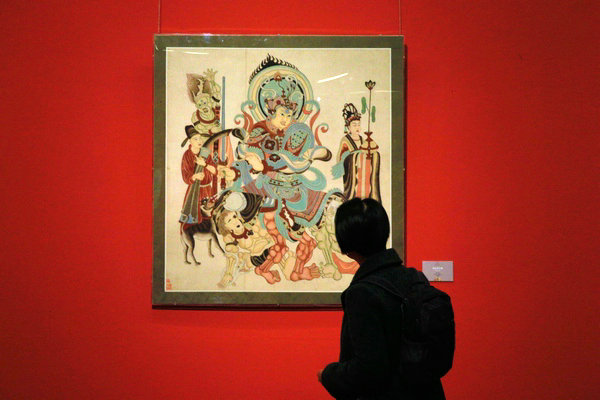 Everlasting Beauty of Dunhuang retraces Chang Shana's lifelong study in Mogao Grottoes. [Photo by Jiang Dong/China Daily]
Chang Shana made her debut as a painter in 1945, at age 14, when she held a joint exhibition with her father, Chang Shuhong (1904-94), hailed as the "patron saint of Dunhuang", in Lanzhou, in northwestern Gansu province.
They were showcasing dozens of colorful ink-on-paper copies of the murals in the Mogao Grottoes. The exhibition caused a sensation leading to more attention being paid to the protection of the Dunhuang cave art.
Chang Shana was born in Lyon and lived in France till she was 6. Her parents were first-generation Chinese artists studying in France.
However, in 1943, the family moved to Dunhuang, a remote county in Gansu, because Chang Shuhong-by then a promising artist who had won several medals at salons in France-was inspired after reading about Dunhuang's Buddhist manuscripts and cave art in France.
In 1944, he became the founding director of the Dunhuang Art Institute (now the Dunhuang Academy). He gave up the prospect of furthering his art career and devoted himself to the protection and study of Dunhuang's treasures.