Folk artist creates sugar paintings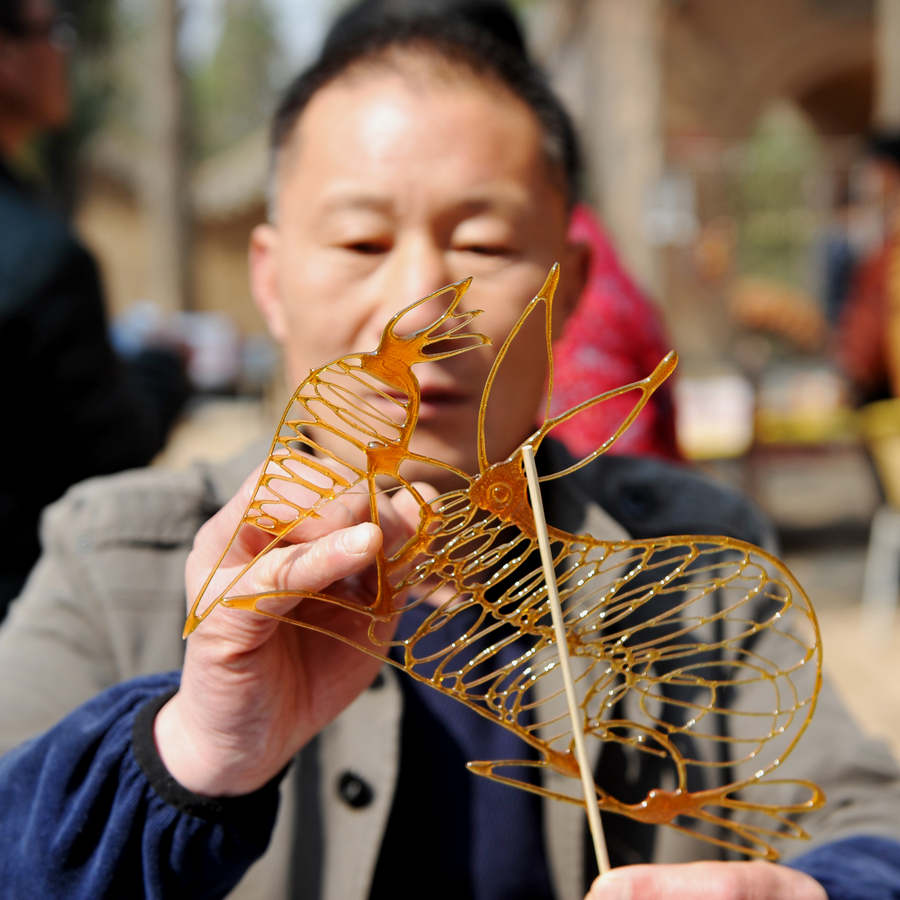 Dong Shucheng gives a finishing touch to his sugar painting in Yongji, Shanxi province, March 14, 2017.[Photo/VCG]
Dong Shucheng, 49, from Anyang of Henan province, is a city-level inheritor of sugar painting making technique. He learned the art during childhood from his elders. But he did not practice it until three years ago. First, he worked in a company but the enterprise went bankrupt. Then he launched his own firm with his friends but that too failed to take off. So he went back to his roots and started visiting temple fairs and scenic areas in North China to make sugar paintings for a living.
Large temple fairs are usually held around the Spring Festival and many people visit them, so the sugar paintings sell quite well during the holiday. He once earned more than 3,000 yuan ($435) in one day in Qingdao city. On normal days, he is able to make 5,000-6,000 yuan in one month.
Sugar painting is usually made with melted brown or white sugar. Craftsman often paint animals and flowers on a stone board with the syrup, and when the sugar cools down, a piece of sugar art is finished.
According to Dong, sugar painting has no manuscript, and craftsmen have to create the whole design mentally and finish it at one stretch. Dong takes only a shovel, a spoon, an electric cooker and an aluminum plate with him when he goes out in search for work. He said the sugar making business costs little and mainly relies on skill.
Dong not only makes money by creating sugar painting, he also has a dozen apprentices and said he wants to pass forward the handicraft.