Winter sports begin Chinese 'spring'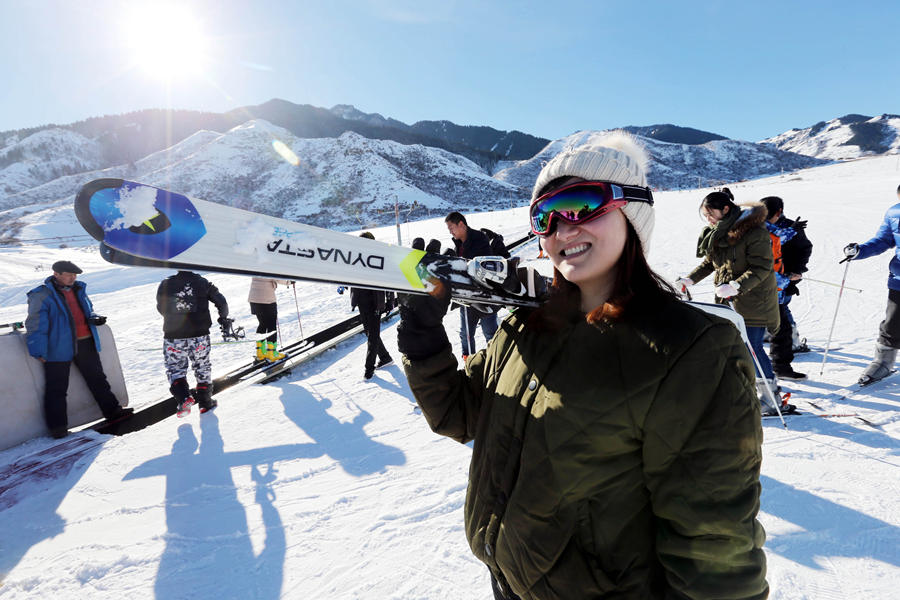 Xinjiang has also been making efforts in winter sports infrastructure construction, with projects to build venues for ski jumping, cross-country skiing and freestyle skiing. [Photo by  Zhang Xiuke/China Daily]
Ahead of the 2022 Winter Olympics, an increasing number of Chinese are partaking in the joys of ice and snow.
For 76-year-old Zhang Baohua, skiing has been a daily routine during the snowy season in China's Xinjiang Uygur autonomous region for six years. For Zhang, who lives in Changji, it's a 90-minute drive from home to the Xinjiang Silk Road ski resort, where he has become something of an icon, known well to all of the resort staff and to his fellow skiers.
Zhang took up skiing after his son bought him a new set of equipment. Skiing has since become the favorite outing for Zhang's family at weekends.
Zhang's family is among the many families who are beginning to spend more of their spare time on winter sports in the northwestern region.
Xinjiang, which boasts areas of both ice and snow, has stepped into the fast lane in terms of developing its winter sports. In an echo of China's overarching ambition to encourage 300 million people in the country to participate in winter sports ahead of the 2022 Winter Olympics, the Xinjiang Sports Administration has taken measures to provide a better environment for people in the region to partake in winter sports. During the 2017 spring festival, tourist visits to the Silk Road Resort reached 42,000, a year-on-year increase of 30 percent.
Xinjiang has also been making efforts in winter sports infrastructure construction, with projects to build venues for ski jumping, cross-country skiing and freestyle skiing. Xinjiang is also planning to host a winter sports meeting for teenagers called Stars of the Future, in a bid to stimulate youngsters' interest in and passion for winter sports.