Global minds share insights into China's economic transformation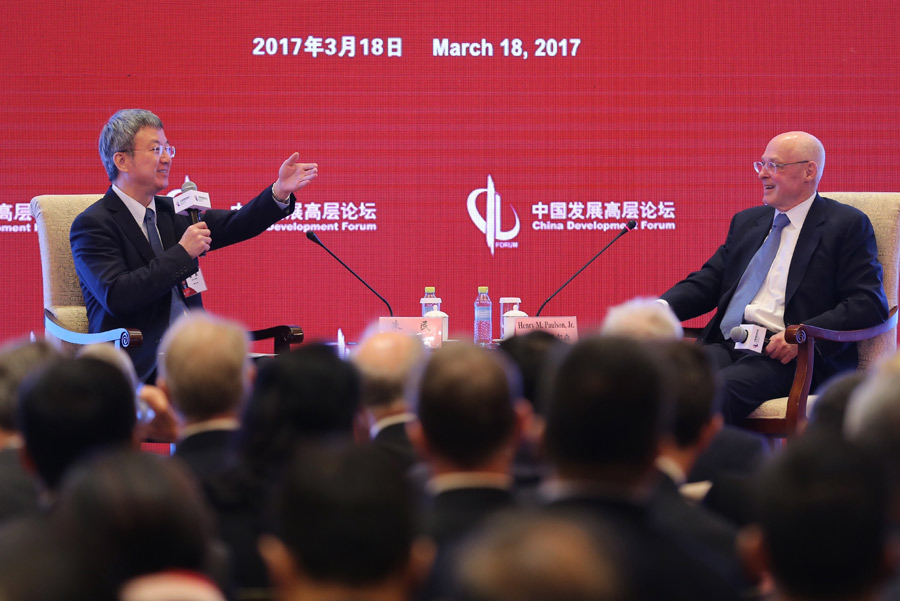 Henry M. Paulson, Jr (right), chairman of the Paulson Institute and former US Secretary of the Treasury, talks to Professor Zhu Min, dean of the National Institute of Financial Research, Tsinghua University, about China-US relations in the Trump era at the 18th China Development Forum (CDF) in Beijing on March 18, 2017. [Photo by Feng Yongbin/chinadaily.com.cn]
The 18th China Development Forum, being held from Saturday to Monday in Beijing, will cover international dialogues concerning crucial issues such as economic reform, struggling globalization and China-United States relations.
Organized by the China Development Research Foundation, the annual forum aims to engage with the world to achieve common prosperity. It is the first State-level meeting to be held after the two sessions, with the theme "China and the World: Economic Transformation through Structural Reforms".
This year's event concentrates on key domestic issues, such as supply-side structural economic reform, intelligent manufacturing, the environment and increasing capital outflows. It will also cover international topics such as China-US relations, the future of globalization and the Belt and Road Initiative.