Subsidy increase, formal education proposed to nurture ICH inheritors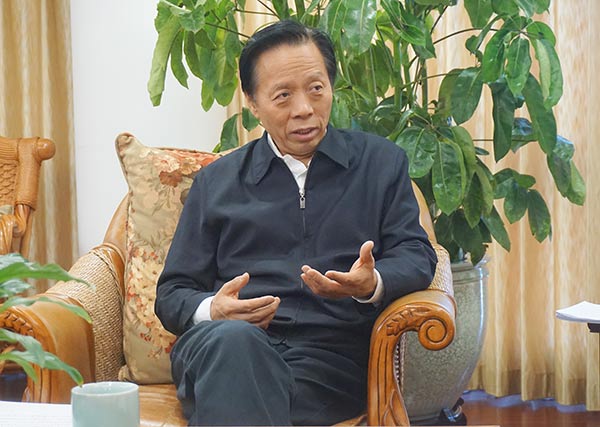 CPPCC member Wang Wenzhang speaks to China Daily. [Photo by Bi Nan/chinadaily.com.cn]
While intangible cultural heritage (ICH) should be exploited as a significant cultural resource, the first priority must be ensuring that inheritors pass the traditional practices down, says Wang Wenzhang, a member of the National Committee of the Chinese People's Political Consultative Conference (CPPCC).
"If there is no inheritance, exploitation will be meaningless," he said.
Wang, China's former vice minsiter of culture, who is the honorary president of the Chinese National Academy of Arts and chairperson of the governing board of the International Training Centre for Intangible Cultural Heritage in the Asia-Pacific Region under the auspices of UNESCO, discussed proposals to safeguard ICH and foster inheritors of traditional culture in an interview with China Daily during the two sessions.
Increase subsidy for ICH inheritors
According to a recent general survey on ICH nationwide, there are about 870,000 ICH items in China, and more than 1,900 national-level inheritors - people who have been recognized by government as masters of a traditional practice passed down from generation to generation. Despite the campaign on ICH inheritance, support for inheritors is still weak. "Now the subsidy for national-level inheritors is 20,000 yuan ($2,896) each year, and I suggested in my proposal this year raising it to 30,000 yuan," Wang said. "For the provincial, city and county-level inheritors, I suggest local governments also raise the subsidy for representative inheritors accordingly."
Japan gives its national-level artisans a subsidy of about 170,000 yuan each year, and South Korea provides 75,000 yuan.
"We should fully respect ICH inheritors, recognize their values, and respect their dominant role in inheritance and innovation. Social enterprises can develop ICH in a creative and modern way, but in terms of how to do it properly, inheritors know it best and no one can replace them," Wang said.
Teaching ICH inheritors should be part of education system
ICH protection faces new challenges now as many excellent inheritors are losing capacity to inherit, some ICH items have no influential artworks left, and many ICH items are also facing extinction.
According to statistics, among the current 1,986 national-level inheritors, more than 250 have died away, and many are at least 70 years old.
Given this, Wang has proposed making the cultivation of ICH inheritors a part of the nation's modern education system. He advises setting up a specialized ICH academy or establishing related majors in universities.
"In fostering ICH inheritors, the traditional teaching method of 'master guiding apprentice' is still effective, but it can't adapt to the reality now. As students who learn in the traditional way don't have academic certificates, young people are not willing to become inheritors, even though they have the chance to be taught by art masters," Wang said.