Apple celebrates New Year with Chinese art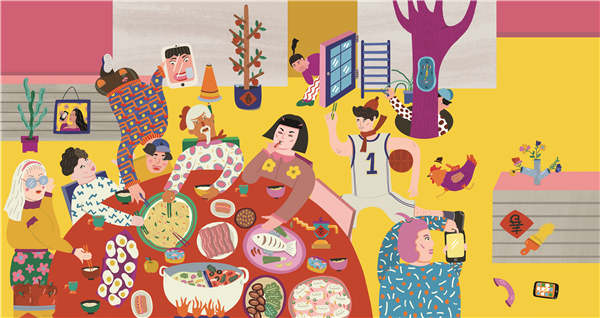 Chinese New Year pictures take on a modern look in the creations by Chinese young artists. Photos provided to China Daily
Apple gets Chinese artists to present traditional themes in a modern way for Spring Festival, Deng Zhangyu reports.
As every Spring Festival approaches, Chinese households follow the custom of hanging paintings-usually colored woodblock prints-on their doors and walls to welcome the new year.
However, the tradition has changed a little in the digital age.
One such painting now appears on gadgets' screens, with the swords of door gods replaced by karaoke microphones. In addition, a door god holds a camera and a bird's cage, and behind him are skyscrapers and fancy cars.
The peace-themed Chinese Lunar New Year painting created by Beijing-based artist Ye Hongxing was first designed on a computer and then turned into a physical artwork-a mosaic of tens of thousands of stickers.
"I combined modern and traditional elements to make it interesting. They can be downloaded as wallpapers on phones and computers," says Ye.
She is one of the five artists invited by US tech giant Apple Inc to make paintings focusing on reunion, fortune, peace and harvest-traditional themes of Chinese woodblock prints for Spring Festival paintings that date back hundreds of years.