Food Insider: Tossing the prosperity salad
Tossing raw fish salad is a fun family tradition in Singapore during Chinese New Year. Lao yusheng, when people stand around the table to toss the dish together and utter blessings, has become the star of every reunion dinner.
Yusheng (鱼生, raw fish), a traditional auspicious food with a Cantonese origin, which has become especially popular in Singapore over the years.Raw fish in Chinese is pronounced the same as prosperity and abundance (yusheng, 余升), so it is viewed as a symbol of good luck.
Using raw fish and various shredded vegetables, the dish is presented as a colorful salad with a sweet and sour dressing. Before eating, everyone uses chopsticks to lao (toss) the ingredients high in the air while shouting auspicious words like "fa", which means good fortune.
The process of lao yusheng may create a messy table, but who cares if it can bring you good luck in the upcoming year?
Here is a tested and proven recipe by Chef Leo Liu from the Westin Beijing Financial Street for you to start creating your own mess. Enjoy!
How to Lao yusheng
For the dressing
Peanut butter, wasabi, soy sauce, sugar and white vinegar to your taste
For the salad
Carrot, white radish, onion, green pepper, red pepper, yellow pepper, purple cabbage, ruccola, gari, lemon leaf and fresh salmon
Steps
1. Cut each vegetable separately into fine julienne strips, arrange on a big plate and leave space in the center for the fish;
2. Thinly slice salmon and put it on the center of the plate;
3. Chop lemon leaves and sprinkle on the salmon;
4. Whisk all the dressing ingredients in a small bowl until blended;
5. At the table, pour the dressing over the dish;
6. Let diners toss the salad with their chopsticks and utter blessings.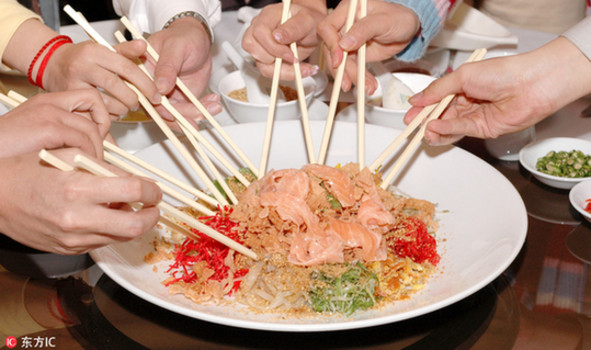 [Photo/IC]