British-Chinese actors call for opportunities
British-Chinese actors and producers are calling for more East Asian artists to be welcomed into the limelight, instead of being relegated to stereotypical and minor roles in theatre and TV.
London-based British East Asian performance company Chinese Arts Space joined with Moongate Productions in describing British-Chinese people and East Asians as underrepresented in mainstream media.
Both companies were participating in the China Changing festival in the capital's Southbank Centre, an event showcasing innovative artists from China, as well as British-based Asian artists.
Moongate staged a performance of a contemporary reimagining of Lady Precious Stream and the company's creative producer and actor, Jennifer Lim, told China Daily: "China Changing is tremendously important. It raises the profile of British-Chinese work... The gatekeepers of the industry need to see that there are British-Chinese talents out there."
Rachel Harris, the lead programmer for China Changing, said part of the festival's agenda was to act as a platform for British-based Chinese artists and British-East Asian artists.
"This festival at the Southbank Centre can throw a spotlight on the issue of diversity and profile the great work done by British-Chinese artists," she said.
Project New Earth, presented by Chinese Arts Space, tells the oft-forgotten story of the Chinese men who participated in the Chinese Labour Corps during World War I. The corps, which was made up of around 140,000 Chinese men, was recruited by the British and French military to provided support services to front-line soldiers.
David Tse, CAS creative director said: "A festival like China Changing is long overdue. The event is important for British-Chinese because it is at the Southbank Centre and that attracts a large audience."
Tse added that there should be more Chinese faces on popular TV soap operas, to change how Chinese and East Asians are perceived and also break the so-called 'bamboo ceiling'.
"When people are encouraged to think internationally and to celebrate and value diversity within this country, then we have more opportunities for more Chinese and East Asian faces on our screens and stage," Tse told China Daily.
And things do seem to be slowly starting to change. Next year, the Royal Shakespeare Company will stage Snow in Midsummer, a contemporary re-imagining of one of the most famous classical Chinese dramas, which Tse said will feature a cast comprised entirely of people originating from East Asia and China. It follows a controversy in 2012 when the RSC only hired three East Asian actors in a cast of 17 when it staged Orphan of Zhao, which is often referred to as the Chinese Hamlet.
"There's an unconscious bias," said Tse, "People aren't deliberately being racist, but they are so ignorant and unaware of our presence here. You don't see us on TV or film or theatre regularly, so people think we don't exist."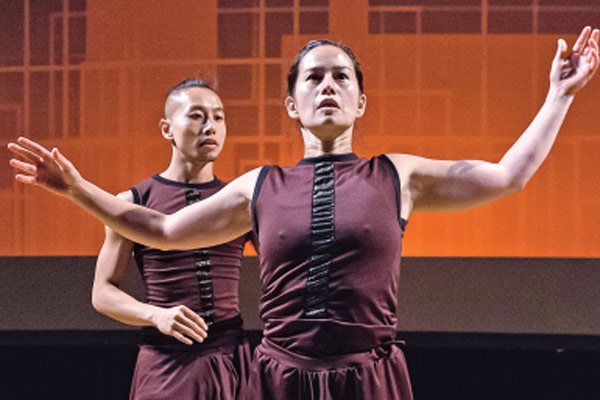 Performers from Chinese Arts Space take the stage at China Changing festival. [Brian Roberts images/For China Daily]